Welcome to the Hayward's Family Cabin located at Hume Lake Christian Conference.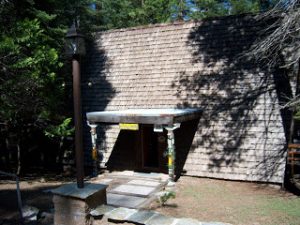 The Hayward's family large A-frame cabin at Hume is available for rental when not used by the family on a weekly basis during the summer from June through August.
It may also be available in May or September for weekends, or longer stays.
Features include: 2 bedrooms, 1 loft, 1 bath.  Wood stove. Microwave. HVAC Mini splits for 2 bedrooms (new 2021) , Mini washer/dryer (new to cabin 2021), Gas BBQ on deck, Wifi Internet. Within easy walking distance to conference center.
You will need to bring your own linens, towels.  We provide paper towels, toilet paper, tissue paper.  Kitchen has table service, cooking utensils, pots and pans.
The 2023 rate is $1100 per week with 4 person occupancy.  There is a $200 cleaning and security deposit – 50% refundable  if the cabin and equipment is left clean and undamaged when vacating.  $50 per additional person over 4 per week with a maximum occupancy of 6.
The 2023 weekend rate in May or September is $400 per weekend ($200/night) with up to 4 person occupancy – $25 for more than 4 person occupancy.  Contact hume@haywardfamily.org for more details.